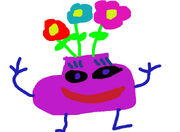 Flo the Flower Power Pot is a rare Moshling in the Natures set.
Seed Combo
Pink Crazy Dasiy, Any color Snap Apple, Red Dragon Fruit.
Bio
Flower Power! I can see why Flower Power Pots are lovable. Well say hi to Flo! 
Mini Bio
Flower Power! I can see why Flower Power pots are lovable. Cute!
Likes
Painting her pot, Art class, Going to the garden.
Dislikes
Her flowers dying, Losing her paint, Missing art.
There things
Artictac, Lovable, Cute
Habit
(The All Moshlings Book) Made powerfully at a art factory, Or you can see Flowers Power Pots paint in Paintasic island.
(In The Game) You can see Flower Powers Pots paint in Paintastic island.
Trivia
Every day when it is art, She goes to school and do art.
She likes going to the garden because she paints flowers there.
She is best friends with Flora.
She has her own art class at school.
Ad blocker interference detected!
Wikia is a free-to-use site that makes money from advertising. We have a modified experience for viewers using ad blockers

Wikia is not accessible if you've made further modifications. Remove the custom ad blocker rule(s) and the page will load as expected.